MultiMail - Serial mail sending program


This program sends mails of the same content to defined receivers.

The addresses of the receiving persons are imported from an exported Thunderbird address book (CSV-format).

The correct adressing of the receivers (Sehr geehrter Herr, Dear Mr., etc.) is automatically generated by checking the first name of the receiver. A list of 12800 first names is delivered with the program. It contains German, English, Turkish, Vietnamese and a few French and Dutch names. The list can easily be expanded to up to 15000 names with a standard editor. If the sex of the receiver name is not defined, an abreviated addressing (e.g. Dear Sir/Madam) is used.

After sending a mail, a minimum break of 3 seconds is made, so that the spam trap of the mail provider does not lock the IP-address of the sender.

The mails are send directly by MultiMail. If the mail provider requires SSL encryption, the standard mail program (e.g. Thunderbird) can be used by MultiMail.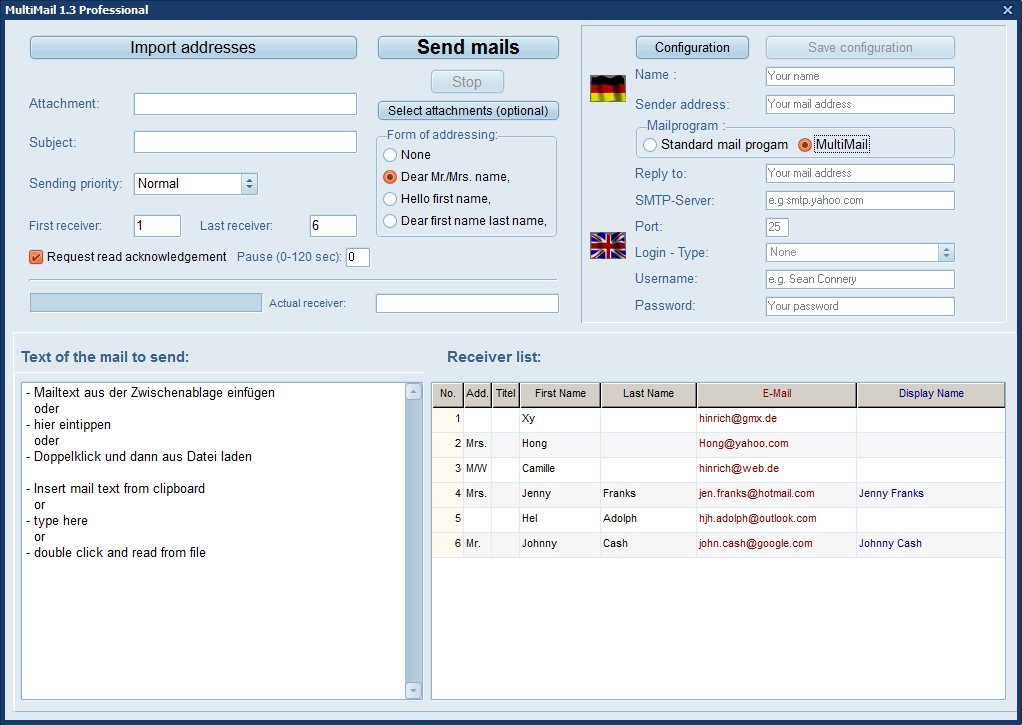 Versions:
There are two versions:
Freeware version for sending to 12 receivers.

Professional version sending to up to 5000 receivers.
Requirements:

Updated: September/1/2015